0317. Sonic Youth
Goo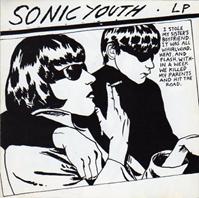 On this, their sixth album, we meet a band that just have been signed by a major label. To commemorate that they apparently toned down their artyness a bit compared to Daydream Nation from two years earlier, but their discordant approach would be back in full effect on Dirty two years later.
Of course as we're speaking 'bout Sonic Youth this means that this is a very even album that can actually be listened to like it was an almost regular alternative rock album.

There are of course exceptions.
The feedback-fiesta of Scooter + Jinx and Chuck D's random rapper-lingo on the "Kim's crashed interview with LL Cool J"-song Kool Thing aren't impressive impressive feats, but are kind of fun.

It's nice that Karen Carpenter gets a dedication in Tunic (Song For Karen), but the track that really sticks out though is Mote, where guitarist Lee Ranaldo's vocals makes it a whole different animal compared to anything else on than album - he actually sings, and in key! Not that Kim Gordon or Thurston Moore doesn't write good songs, but you know...