0497. Funkadelic
One Nation Under A Groove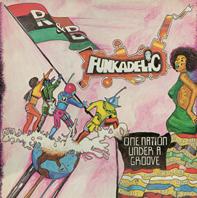 I'm going to have to start a bit sour here, cause this album has two faults:
too much of the lyrical package deals with making up excuses for why they've moved away from the P-funk a bit
too much of the music's dealing with Yngwie Malmsteen type guitar solos
But apart from that (and the fact that Groovallegiance sounds like it's got a calypso beat hidden in there) it's all good. Even the call and response, with what sounds like a very disorganized group of people, works.

Opening with one of their most popular tracks, One Nation Under A Groove, this album, the tenth by Funkadelic, is an unmissable classic indeed. Backing the title track are (among many good songs, but with an honorable mention) the aforementioned Who Says A Funk Band Can't Play Rock?!, the fecally metaphorical Promentalshitbackwashpsychosis Enema Squad (The Doo Doo Chasers) and the use-your-mind chant Lunchmeataphobia (Think! It Ain't Illegal Yet!). Maybe not as phat as Parliament's Mothership Connection, but then again, not much is.
Feet, don't fail me now!