0228. Cornershop
When I Was Born For The 7th Time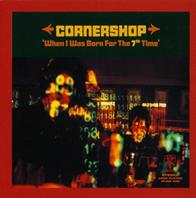 It begins with an accordion (or is it a harmonium?) from the Louisiana swamps and I go "is this the right record?", but then the beat kicks in, Tjinder Singh lays some vocals and it's more familiar. Strange though, he sings almost exactly as in the next song, their immense hit Brimful Of Asha - here in the original, non-Fatboy Slim remixed version (it got released a year later). I.e. the album doesn't contain the hit-version of their most famous song.
But that isn't actually a bad thing, cause even though it might be less dance-friendly it has also been substantially less played to death and putters along quite nicely.

The rest of the album is (also) a mix of indie pop, dance beats, raga and qawwali (yes, this one I had to look up) with lyrics sung in English (mostly) as well as Punjabi. I'll only mention two more of the thirteen tracks to keep it short, but I seriously could go on for a while:
Candyman features Justin Warfield and he's delivering the goods - the beat suits his rap-style and I get a bit nostalgic for Bomb The Bass (or more precisely their Bug Powder Dust which features Justin's best performance evar).
Their Punjabi-cover of Norwegian Wood (which ends the album) doesn't just feel like a novelty track (the danger of translating a song and releasing it on an audience that doesn't understand the lyrics), but is actually a good meta-reference to The Beatles and their maharishi - the only slightly negative part is that Punjabi doesn't seem to have a native sounding word for Norwegian, but otherwise it's just fine.

Not only making sociopolitical commentaries by choice of band name and making highly blended and referencing music they also took a stand against Morrissey the first(?) time he went nationalistic - they appeared on the cover of NME magazine burning Moz' picture on the steps of EMI. Well done!