0215. Nick Drake
Five Leaves Left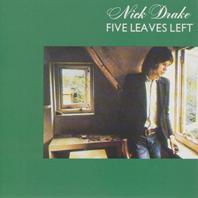 This was Nick Drake's debut and the difference between this and his last album is a far wider gap than the three years in time between their releases.
For one, there's instrumentation here. Not just ol' Nick and his acoustic, but piano, congas, strings and even an electric guitar (courtesy of Richard Thompson). The massive string arrangements in parts of River Man actually are surprising and seem to attack the song's very structure, but settles down and lets the song whisk you away again.

Also there is a lighter mood, even though the lyrics are deep blue. The album gives off a more hopeful vibe than the quiet despair heard on Pink Moon and the final song, Saturday Sun, actually almost feels joyous.

I can't really believe this sold under a couple of thousand on it's release, but I do understand why Drake's got such a dedicated following. Five Leaves Left is an amazing album.