0075. Jeru The Damaja
The Sun Rises In The East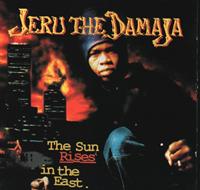 Concious rap plus beats by Primo should equal greatness. In this case it's only close and this is the reason why:
Da Bitchez is a typical example of a "if you don't have anything constructive to say it's better to say nothing at all"-track since it's just a lamentation of how women hustle men. Of course it's complete with the standard-disclaimer that he's not talking 'bout all women, just the ones he call bitches, but it's still just a rap about how he doesn't like women. Very un-concious of him.

The only other negative on this album is Jeru's flow which, by today's standard, is outdated. Since he can't back it up with a cool voice (like his friend Guru could) The Sun Rises In The East is not as great as it could be. But nonetheless the lions share of the tracks are very good - D. Original, Ain't The Devil Happy and Jungle Music are, to name a few, well written and deliviered properly on the level you'd expect from lyrics delivered on a DJ Premier 90's beat.

For a novice listener this could very well be a gateway into heavier rap.