0128. Terence Trent D'Arby
Introducing The Hardline According To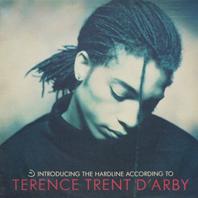 The first thought that entered my mind as the album started playing was "Whatever happened to Terence?" I thought I'd give you a short recap:
After this debut (that sold a million units within the first three days - daym!) he's released eight more (with a five year break after '95 and another after '01) and has had a name change (nowadays he's Sananda Maitreya and seems to have spiralled out there somewhere).

But back to this album.
Containing the songs Wishing Well and Sign Your Name (which if you've never heard 'em you'd better remedy that pretty soon) it's no wonder it's sold around twelve mil. this far. D'Arby's hardline is funky soul and r&b with a musicianship so magnificent that there's no wonder some said He was destined to be the next Michel Jackson.

The downside is that some of the tracks are a bit too long (yes, I'm stepping out of character here), like If You All Get To Heaven, which easily could have been two minutes shorter - it'd made an almost perfect contribution to an almost perfect debut album.