0239. The Young Rascals
Groovin'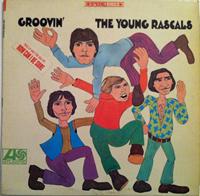 There's one thing that keeps repeating itself throughout the history of vinyl and always boggles my mind: revamping the singles preceding the album for when they're on it. Arrested Development and many others have done it and so did The Young Rascals.
Why? That song is the reason they got interested in the album, so why change it?

Rant's over, so here's the album:
When they scored a huge hit with the single Groovin' they quickly assembled an album (named after the single of course), but changed the harmonica riff as their hit single moved on to become the title track of this release.

The music's pretty standard jangly pop prom 'sixty-seven and thus okay, but I can't really see how this is an album you have to hear, cause this is an album it feels as if I've heard about a dozen times already on this list. The surprise is You Better Run, with its a bit harder sound (but still not original for an album from this year).