0752. ABBA
The Visitors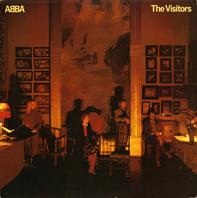 This was irritating. As ABBA's back on the list, I'm having mixed emotions. The title track is an almost very well crafted pop-piece (about political dissidents in the Soviet Union, no less), and although they could have faded out earlier after the five minute mark instead of repeating for almost a minute more I got to say it doesn't lose too much steam.

But the feeling wanes as the album continues, cause the rest of the songs are more in the line of what you might recognize as an ABBA sound but in the minor scale - yes, it's the dark ABBA album!

Thematically it's mostly an album about goodbyes (which is appropriate as it's their last studio release and also there had been some divorces in the band), but sadly I can't make up a storyline for it, forcing it into the concept album category (as I did on Arrival).

So all I got out of this was conflicting emotions about honestly liking an ABBA track.
Damnit.