0269. Peter Frampton
Frampton Comes Alive!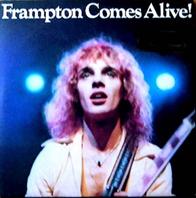 The possibly least dangerous man in rock, Peter Frampton wrote Baby, I Love Your Way (which, some twenty or so years later became a hit for Big Mountain in an even less intimidating, but annoying, version). He'd struggled along with four studio albums before this live double-whammy threw him in the big leagues, sold millions of units in the year of it's release and thus became the best selling album of the year as well as grabbing the title of best selling live album ever (until Bruce Springsteen released his live album ten years later).

So, there's fourteen tracks scattered over four vinyl sides, and almost all of the are original songs (the only track that's a cover is a lack-luster version of the Stones' Jumping Jack Flash) and although legendary for his use of the talk-box (reportedly accounting for 60% of it's recorded use) Frampton only uses it twice on this album: on the single Show Me The Way and on the final track, the fourteen minute Do You Feel Like We Do.

I got to say it's pretty amusing hearing the audience at times, like the guys going bananas during the instrumental picking of Penny For Your Thoughts - it's nothing real exceptional, but they're just that into it and it's kinda contagious.