0176. Fela Ransome-Kuti And The Africa '70 With Ginger Baker
Live!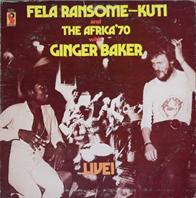 The inimitable Fela Kuti co-signed on at least seventy albums and this one is with his orchestra The Africa '70 and the drummer Ginger Baker (of Cream fame).

Just four tracks, Let's Start, Black Man's Cry, Ye Ye De Smell and Egbe Mi O, spanning the 45 minutes the music is of course afrobeat - the blend of traditional West African, funk, jazz, high-life and psychedelia pioneered by Kuti - and the songs are extensive grooves with call and response and a helluva lot of energy.

Combined with Kuti's political stance - which he cultivated two years prior after travelling to the U.S. with the band and meeting Black Panthers it's no wonder the powers that was were afraid of him - a political song that people can dance to is a man giving his speeches forever.