0121. The Beach Boys
Pet Sounds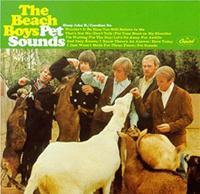 The Beach Boys first entry on this listing is also their eleventh album and the one that's considered their magnum opus and a total game changer.

Inspired by The Beatles' album Rubber Soul, it's a departure from the surf-pop lyrics that until then had been the group's callsign, and a foraging into the area of more cerebral (and acid-inspired) lyrics. Combined with the patented Beach Boys-sound of harmonies and lighter-than-air walls of sound (this time more orchestrated than ever) it's a very intersting turn of events for pop music and worth to check out.

However, I got to wonder why they've put the tongue-in-cheek of the folk song Sloop John B alongside devotionals like God Only Knows and Let's Go Away For Awhile. I mean, Sloop... is a good song, but it doesn't really fit there...