0021. Genesis
The Lamb Lies Down On Broadway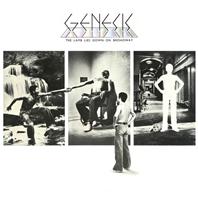 Once upon a time Peter Gabriel ws the singer in a band called Genesis and once upon the same time Genesis were into progressive rock. Coincidentally it was the same time and that leads us to todays album: The Lamb Lies Down On Broadway.

This is by a wide margin the longest album on the list (so far). At its first release in '74 it was a fully packed double-vinyl LP which means that the '87 re-relese on CD also was a double whammy. Twenty-three songs clocking in at just over an hour and a half. I'm a bit amazed that there's only a couple of songs that are over five minutes since progressive rock always seem to excel in long and winding soundscapes (don't worry, they're here too, in the form of, amongst others, The waiting Room).

At the first listen I find it very pompous, but as the final track (called It) claims that "if you think that it's pretentious you've been taken for a ride" I try to listen harder the second time. It doesn't cure the feeling of pretentiousness, but I'm more able to keep up with the storyline on the second run (yes, it's a "concept album").

So, the premise of The Lamb Lies Down On Broadway is that the protagonist is searching for his missing brother (or his inner self / his way / the other half of his mind, depending on whom you ask). It's done through a series of tracks which after the second and third listen are, to be frank, still kind of pompous and overblown. It feels as if they're just trying to hard to be hard to get and doesn't put enough energy into actually writing good songs. Okay, I got to admit that Counting Out Time has a surpirising theme (appearently the narrators "adventures" after reading a book on erogenous zones), but "surprising" isn't always a synonym to "I like it, I like it a lot".

This album's not a life changing experience, but it's interesting to hear what Genesis once were just for reference. As a coincidence this was the last album where Peter Gabriel was in the band and in retrospect I think it was a good choice to split, because if they'd made more albums like this I think we'd have missed out on some great music from both Genesis and Peter Gabriel.