0101. Willie Nelson
Red Headed Stranger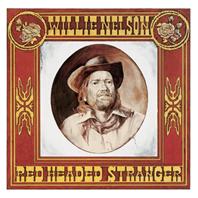 Red Headed Stranger is the story of a man on the run after killing his wife and it feels kind of bad to say this, but I'm not that impressed. I know this is the album that propelled Willie into superstardom, but the only tune that gets into my mind is the intro / theme, Time Of The Preacher, which returns a couple of times to recapitulate or lead the story on. The rest are a less interesting bunch that, while well written, just doesn't do it for me.

It's an okay album, but it feels like Nelson's holding back or something, cause it's far from his best moment. Probably because part of the songs are covers that he stitched together with his own to get the narrative.
He delivers, but it doesn't feel like his heart is in it.