0242. Green Day
Dookie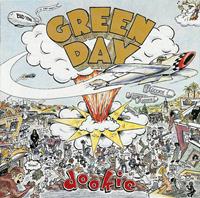 It's now gone about fifteen years since I last heard this album in it's entirety, but I still remember a frightening amount of melodies and lyrics from it.
And while Basket Case's been PUYHI'd (played until you hate it), the other hits from the album has stood the test of time adequately: Long View's bass and drums still kicks and Welcome to Paradise (while not so very impressive) still reaches the eighteen-year old in me who didn't have a clue while When I Come Around still putters along as the not-quite-ballad-but-close-enough-cause-this-is-sort-of-punk of the album.

One of the tracks I don't remember even a bar from is Pulling Teeth, a harmonious (sort of) Beach Boys meets pop-punk song which kind of remind me of some of Home Grown's songs.

The rest of the album is in the same veneer as the pop-punk stylings of Welcome To Paradise.
All in all, not the kind of punk I prefer, but well, it works.