0468. Beastie Boys
Paul's Boutique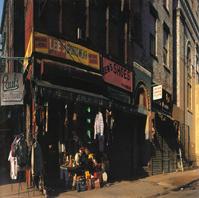 The Boys' second album on the list is also that difficult second album of a band's carreer. After breaking through on all fronts with Licenced To Ill they had to top that album somehow. The problem? They no longer had access to producer Rick Rubin after leaving Def Jam.

No worries!

Sampling everyone from Pink Floyd to the Bar-Kays to, yes, the Beastie Boys, the production team The Dust Brothers (yep, the same crew that caused the Chemical Brothers to change name) creates wierd, infectious beats that suits the Beasties irreverent rap. At times it doesn't get them all the way, though, as both Johnny Ryall and The Sounds Of Science are, well, not my cup of tea. I's not that they're bad, but I just can't seem to get interested at all.

While the homophopbia's been turned down on Paul's Boutique it's still sexist and dumb (while not stupid, cause there are some real clever rhyme-references), probably at least half the rhymes are about girls and booty.
And while their label pulled all promotion of it due to low sales, almost everyone nowadays say this is actually the Beastie Boys' best work.
Hindsight's a cruel lover, ain't it?