0454. The Dave Brubeck Quartet
Time Out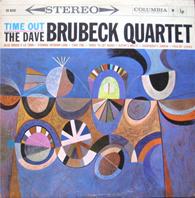 The tempo- and mood-shifts of famous track Blue Rondo À La Turk gets me hooked from bar one and I immediately decide that this is a good album. And, while the following tunes doesn't grip me as hard, the decision stands.
Brubeck and pals didn't even know if the album was going to be released, but it became a smash hit (well, for a jazz album to get into the mainstream charts was, and still is, a feat) and it still sells a lot of units - some fifty-two years later. [fact check: if you find a copy of the re-release on dual disc it might be a good investment to cop it, cause there's just about fifty of them in existance due to problems with the licensing]

Of course Blue Rondo isn't the only brilliant track - there's also the instantly recognizeable Take Five, penned by saxophonist Paul Desmond [fact check: the royalties of which now goes to the Red Cross. that's just damn cool, Paul!] with it's smooth sax backed by a very entrancing rhythm.

I could listen to it all day - in fact, that's what I've done (and it's part of the reason why this reviev comes up so late - sorry).