0401. Sigur Rós
Ágætis Byrjun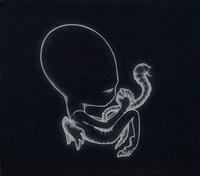 The breakthrough double-vinyl album from this Icelandic quartet kind of cements the notion that Iceland's a wierd place (cause, dude, look at Björk). The post-rock, alterative labels gets completed with mood music and ambience as Sigur Rós devotes seventy plus minutes to expanding their sound.

And while it might not be my first pick for a "best of EVAR!!"-list I must say it's a good album and maybe not so surprising that it got a lot of attention outside of Iceland in spite of the vocals being mostly in Icelandic (except for a couple of parts sung in a made up language [fact check: 1001 albums you must hear... claims the whole album is sung in the gibberish language, but: no]).

A nice beginning, to say the least (and to make a pun out of the album title of course).