0071. Buffalo Springfield
Buffalo Springfield Again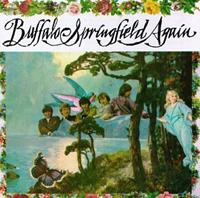 It's a lovely album!
Neil Young's voice is at it's prime, as is Stephen Stills, and I can't help feeling like a crook for thinking that Richie Furay has a very ordinairy voice (the difference is obvious in Hung Upside Down where his lead in the verses is contrasted by Stills' in the chorus), but that's just the way it is. Drummer Dewey Martin's only vocal appearence is on Good Time Boy, a seriously Motown-style (with a cameo by the Soul Train horn section)

Musically it's a treat: It's a bunch of skilled musicians who know what they're doing and it feels as if they easily could have had a Beatles-style carreer if they'd only combed their hair (and quit splitting up their bands at the same pace hobos change underwear). They've got a range that almost defies the limits of one album, blending rock, pop, psychedelia, country, 50's pop, jazz and even some proto-funk. The tempo-shifts in Everydays are the proverbial icing on the (equally proverbial) cake (and of course I love the backwards solo in Mr. Soul).

I like it a lot!