0190. Rocket From The Crypt
Scream, Dracula, Scream!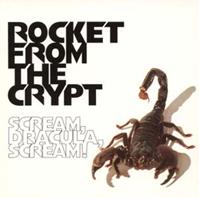 The early to mid-nineties saw the rise of a lot of this type of bands: acts that were essentially punk rock-bands, but with "a twist" (i.e. someone with the organising skill who got them to add another genre and a horn section to the sound) and a gimmick ("hey! I just thought of something - what if we like base our imagery 'round old horror flicks?"). Often enough, it actually worked.

And so does this. I mean, Rocket From The Crypt wasn't the most revolutionary band and I can't say that nearly forty-five minutes of their songs are that interesting to listen to albumwise (but I bet they had a killer live-set). Maybe to have as warmup at the before-party, but not to just sit back and listen to.

They've got the energy, but this album is too long for the constraints of their chosen genre.