0103. Magazine
Real Life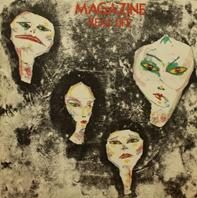 This is a band I don't think I've ever heard (about) before and I got to wonder why you (the unspecified powers that be) have hidden them from me? With a sound like 2Tone meets Mr. Bungle this is music I love.
The only blemish is that (ex-Buzzcocks) vocalist Howard Devoto sings kinda crap on parts of two songs, but for the most part it's beauteous all the way (yes, I got hooked already in the first bars of Definitive Gaze and haven't come loose since).

As this goes on the GotToGets I got to get cracking on getting hold of the other three albums they released (which I hope are as good).
By the way: once again the label post-punk is proven to be as much of a non-definition as alternative is, but since this is claimed to be one of the first post-punk albums I guess that it's the label's accurate on this one and false on the others.