0424. KLF
The White Room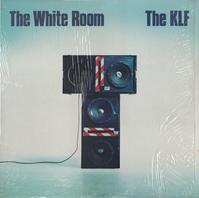 Now this is an album that made a whole lot of people go WTF! when they bought it.
KLF's The White Room sported the singles What Time Is Love, Last Train To Trancentral, 3 A.M. Eternal and Justified And Ancient most of which were kind of completely other versions than on the album (Justified And Ancient bringing in country great Tammy Wynette on vocals).

Simply put: where the singles rocked the album trances out into house / acid-house teritory.
And as house isn't my favourite genre (as you might remember) I'd rather have listened to the remix-album as this one reminds me of what could have been.

So, this album isn't a favourite, but the KLF legend (y'know, random (as in "what the..?") collaborations, bringing live sheep onstage (they did that, didn't they?), shooting blanks at the audience, spontaneously(?) quitting the music biz and burning a million quid on a remote Scottish island) is a reason in itself to listen. Just to perhaps find a trace of an explanation to what the hell was going on in their minds.