0155. The Zombies
Odessey & Oracle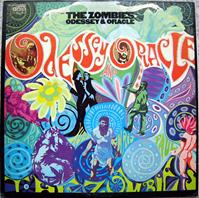 Psychedelic pop, you say? From the late sixties? It cannot be!
Released after the band had gone to it's grave (oh, my... is this gonna develop into the re-pun of the living dead), this album woke from the dead to prey on the living's record-players, while unholy doppelgangers toured under the band's name. Yep, that's right: the band quit after they'd recorded Odessey & Oracle and when they refused to re-group when the album started climbing the charts others stole their name and played their melodies and sung their harmonies.
This is pop of it's time - airy compositions with a bitter-sweet sentiment - but with a twist of classical music (or baroque as some would have it).

The best track on the album is the last one, also the single that made the album sell over two million - Time Of The Season, where a minimal, cool, bass-line jazzes the song along until the mellotron takes over in the bridge, all while the singer shows he's the king of smooth. It's a near-perfect piece of pop music to end a career with.