0384. Method Man
Tical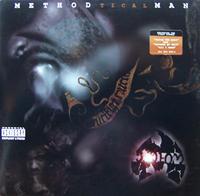 Method Man was the first of the Wu-Tang Clan to release solo album, and this is (while never reaching the same levels of Tourette's we heard on Only Built 4 Cuban Linx ...) a gritty and pretty foul-mouthed piece of work. This is also a much better album (Raekwon shows up on the track Meth Vs. Chef, by the way).

The production's all over the place. Or rather: it's firmly placed in the insanity that was RZA's stamp of quality back then. Like the adding of a falsetto-chick on the hook of Mr. Sandman (less than optimal, but still) and the genial intro, starting with a sample of Pictures At An Exhibition (of which we've already heard the ELP version). But, on the whole it's the remixes of the tracks that makes this album really interesting. Not the remix appearing here as the remix of Method Man that ends the Tical is sadly not better than the original, but the remixes that appeared afterwards.

Everyone's heard the version of All I Need with Mary J Blige and some might have heard the Chemical Brothers remix of Bring The Pain(that doesn't really top the original, but still is interesting), but the Prodigy remix of Release Yo' Delf is the one that tops just about everything [fact check: this remix is apparently in the remastered release of Tical, go figure].

I remember pirating that Release Yo' Delf remix as realaudio on a 28.8 modem and copying it to a mix tape backinnaday (yeah, that's how old school I am).