0561. The Residents
Duck Stab / Buster And Glen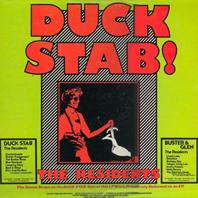 So sorry, but this will have to be a name-dropping one or else I can't even begin to describe what's going on here.
Like a more listenable Throbbing Gristle, The Residents use whatever the hell they want to to create ...what the Hell?!

With an approach to music very similar to Gong! and with one of the singers sounding like Primus' Les Claypool (or rather, the other way around, due to age and such) this is hellagood [fact check: Primus have actually covered the track Sinister Exaggerator and a couple of other songs off this one during their time].

It's impressive what an art collective can come up with, and of course this is wierd enough to get a cult following.