0369. Soundgarden
Superunknown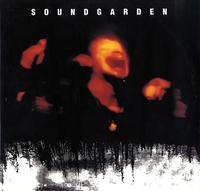 Where Nirvana were the soundtrack to teenage angst and rebellion, Soundgarden provided the lyrical content - i.e. Cornell and the gang were easier to sing along to since, well, you actually could hear the lyrics (even though they're more often than not wide open for interpretation).

Five singles were released off of this breakthrough double album and almost all of 'em were huge hits where I lived. Sadly that also made sure I grew tired of Black Hole Sun as its four or five videos (or rather four or five slightly different versions of the same video) seemed to play back to back on MTV for a couple of years, but now, fourteen-fifteen years after starting to change the channel whenever it showed up, I kinda get it again.

The same applies to Spoonman, but the biggest surprise is that since I last listened to this album (or rather the bootleg cassette I made of it (aww, tapes, do you remember when they were the threat to the music biz?)) is The Day I Tried To Live, which I apparently have misrepresented in my head all these years. Disappointing thing is, I like my version better...
But the main song to take with you from this album is Fell On Black Days, a wonderful and down-tempo track about realizing that your perfect life is just hollow.