0838. The Smashing Pumpkins
Mellon Collie And The Infinite Sadness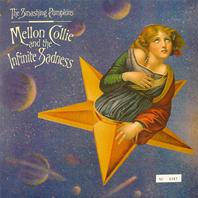 This three-disc vinyl was claimed by band-controller Billy Corgan as "The Wall for generation X", and honestly?

No. Just no.

Cause while Zero and Bullet With Butterfly Wings gets their hooks in the whole albums riddled with not so good lyricism (even in the aforementioned couple of songs). It's actually so random that at times I'm really getting into a song and then just go "you said what, dude?"

And who the hell allowed Take Me Down to be made? Then again, it might be so that Billy cleared it so that he could have something that would make Lily (My One And Only) seem like not such a bad track after all.

Nota bene! Most of these problems only arise if you try to listen to how the songs are "built", so for the most part you'd be in the clear if you just go along with it. Then it's just about as good as the previous release, Siamese Dream.