0474. U2
The Joshua Tree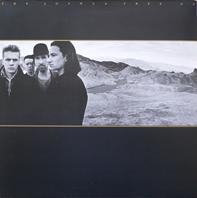 When it came to releasing their fourth album, Irish band U2 completely cut down the earlier songwriting skills, as Bono said he wanted to write lyrics that "meant something" for The Joshua Tree. (what about Sunday Bloody Sunday and New Year's Day, Bono? what about them?)

And okay, it is a good album (both lyrically and musically) and although Trip Through Your Wires could have been left off, the first triplet of songs do make up for it massively.
Cause the tracks Where The Streets Have No Name, plus I Still Haven't Found What I'm Looking For and With Or Without You are great songs (and also entries on the previously mentioned top ten U2 tracks list).

The album is by large themastically about the contrasting U.S.A., with references to the Bible, politics and belief, but also with songs about the hardships of trying to have some sort of domestic life while on the road for half of the year.

A good album to end the work week with.