0661. Pavement
Crooked Rain, Crooked Rain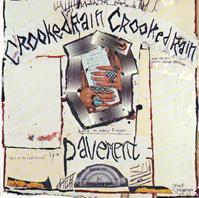 The first ten seconds of the album makes me sit up straight every time - they promise almost Hendrix-esque levels of awesome with a near perfect fuzzed guitar and the rhythm-section warming up for greatness.

Then it turns out it was just some last minute tuning before they go into a comparatively ordinairy, straight beat, broken-voice singing and alternative riffage (the fuzz still sounds great though).

The one stand-out track is 5-4 = Unity, an instrumental with a jazz-type meter (and reminds me of a remix / mashup of Nina Simone's Feeling Good I heard back in the nineties). Just about two minutes of piano-plinking goodness.

If this is what a lo-fi band sounds like when they get a hi-fi producer, I'm all for it (especially if they do like in Range Life and start beefs with Smashing Pumpkins).

But, damn! if that first ten seconds from Silence Kid had continued throughout the album it'd been a killer.