0338. Paul Revere & The Raiders
Midnight Ride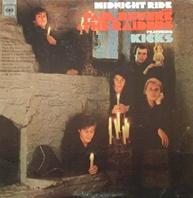 Back in the sixties again, and you know what that means: jangly guitar pop!
I know I've been complaining about some formulaic hip hop, but this era and genre had a pretty harsh formula too: (at least) one semi-trippy song, a couple of filler tracks about love (and the ever unobtainable (or is she? hopes flare) "her"), another single, a couple of more fillers (preferably about love, but maybe taking ones car out for a spin). The difference is that while form-hop gets dull due to its lyrical predictability, the sixties form-pop almost always manage to produce at least one pretty good song per album. Yes, I listen more to the lyrics in hip hop than the lyrics in rock / pop, so sue me.

The thing that sets Midnight Ride apart, however, is that it's actually got two major songs - Kicks, which was the hit (and also , and I'm Not Your Stepping Stone, which became a hit for The Monkees the year after (I don't really get why they double-time it in parts of I'm Not Your Stepping Stone, but okay) - and that it's reportedly the album that inspired The Who to go proto-punk.

So, while Little Girl In The 4th Row and similar are prime examples of filler love-songs, the attitude and semi-experimentation on other track makes Paul Revere & The Raiders deserve at least one listen.