152. Tangerine Dream
Phaedra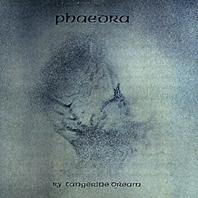 These are the guys who inspired the whole Krautrock-movement. Another ambient album, recorded when the genre didn't even have it's name, and in contrast to Eno's Ambient 1: Music For Airports this is both relaxing and exciting. They manage to blend dreamscapes with more sinister sounds, without turning nightmarish. The title track is a jam-session, which I imagine is a rarity in the genre, with a build-up spanning several minutes and towards the end starts to shift due to detuning instruments. As this is ambient the tracks of course are lengthy by expectation, so I'm a little bit surprised that the fourth and final track, Sequent C', is only 2:18 long, but it's not bothersome, just different.

Tangerine Dream has been active ever since '67 and continued recording, albeit with an everchanging lineup, the tragedy being that they though their groundbreaking work has in later years both influenced and got kidnapped by the pseudo-genre "new age music". The poor saps.