0584. Marianne Faithfull
Broken English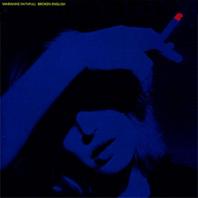 At first I'm very skeptical about this. An album consisting of mostly covers, performed by someone who sounds like one of the lesser Bob Dylan moments, and with a production heralding the dreaded eighties doesn't really intrigue me at first.

Then comes the final track, the spiteful Why D'Ya Do It, and it sounds just like the type of homebrewed "how the hell do you play this?"-reggae that Rasta Hunden used to play. A great track, banned in Australia, and an excellent way to make sure Faithfull wouldn't go into obscurity even if she fell back into the drug habit that took a couple of years away and changed her voice forever.
On the second listen of the album I've gotten more used to the sound and can hear past the worst parts of the production, and on the third I'm kind of hooked.

So, it pays for me to listen more than once, and it pays for musicians to have tiny barbs in their albums that can latch on to a soft spot in the listener's mind.