0490. Pixies
Bossanova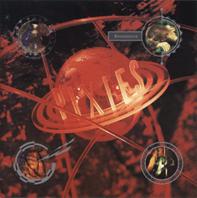 So, let's welcome the Pixies to the list with an album that sort of could pass as a comeback album. As touring had taken its toll on the band they had taken a break, a little pause in the relationship, in the beginning of 1990, but got back together after three quarters had moved to LA from their native Boston.

Recieving studio-help by Rick Rubin (for once he's not producing, but just lending a hand in finding a place) and letting band leader Black Francis write almost all of the songs, this maybe isn't the album most representative of what made the Pixies influential, but instead a landmark showing where and why they started to fall apart.

Over all, though, this is a fairly good album where songs like Velouria (with an extremely low-budget video filmed just to be able to play Top Of The Pops - which they by the way never got around to) and Allison are great listens. But ironically I especially enjoy the instrumental Cecilia Ann, the one track not written by Francis, but instead a cover written by the Surftones.
So why is this an album you ought to hear? Because this band was a huge influence on Kurt Kobain, of course!