0620. Pulp
This Is Hardcore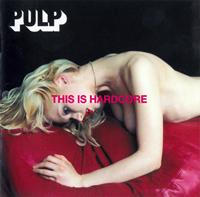 I don't know why I've always thought the girl on the cover was a mannequin. Maybe it's the lifeless expression combined with a very unnatural pose. [fact check: at the time of its release it got a bit of a blowback from people who also thought it was objectifying, defacing billboards and such]

Anyway, this is the follow up to Different Class, and for a while I think they've toughened up a bit, but the songs just get softer and softer as this hour and some seemingly refuses to stop (looking at the tracklist and realizing it's just been about half an hour isn't a good sign...

And I'm almost dozing off during the eight and a half minutes Seductive Barry drones on, they're not making it easier by having the last song take almost fifteen minutes - whereof the last ten minutes is just a phased keyboard chord held down (okay, so the singer says buh-bye somewhere in there but who cares at that point - which reminds me: he's the same guy who tried to make a comeback with the geopolitical track ("cunts are still") Running The World, just as a tie-in to the previously mentioned use of women).

This is as far from hardcore it can be. But at least The Fear is kind of decent.