0492. Dr. Dre
The Chronic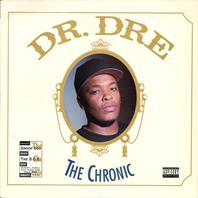 So, the solo-debut by N.W.A. castaway Dr. Dre, and just like with the ex-colleague Ice Cube, there's lyrical content that doesn't care much about consent, but unlike Cube, though, there's hardly even traces of a social observation.

The two main reasons to listen to this hasn't got anything to do with his raps, but instead the budding G-funk (with samples from Parliament of course, used more or less well, The Roach(The Chronic Outro) has got to be the worst attempt ever) and the launch of Snoop Dogg(y Dogg) - the guy who, to many, personifies the G-funk hustler.

I guess it's a bit embarrassing having one of the guests rap one's boots off, but Dre keeps his spirits up and brings in Snoop on thirteen of the sixteen tracks.
I guess he was focusing on the production.