0264. Wire
Pink Flag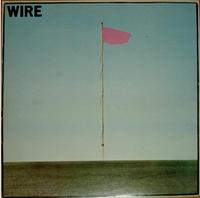 Well, as they say: if your album's got twenty-one songs in thirty-five minutes, you might be playing punk rock. Almost a third of the tracks are under the minute-mark while half of the rest are just above. One fascinating thing is that the assault of the one-minute songs makes the ones that are over two minutes seem like epic orchestrations.

It's obvious that they've been an inspiration for a lot of British bands. R.E.M:s covered Strange and although it wasn't until I read some background on the album that I realised it and although it was one of the less great tracks on that album it's still damn good. The riff for Three Girl Rhumba echoes in the Elastica-song Connection, a connection I didn't have to read up on to catch. And so on and so forth until the list is too long to fit in this (rather unlimited) space.

So, clearly a must-hear album, even though it might not be the perfect album for everyone. A couple of tracks I think you'd ought to listen to anyway are some of the longer ones like Reuters (clocking in at 3:03), Lowdown (2:26) and even Champs (at a mere 1:46). The more I listen to this, the more I like it.