0312. Serge Gainsbourg
Histoire de Melody Nelson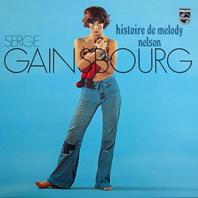 Almost half an hour's worth of music where almost half of the tracks are under two minutes must mean punk, right? Nope, it's just a dirty old man with a concept album about falling for a little girl (Serge Gainsbourg was forty-three at the time and the girl in the story is pictured in the sleeve as covering her chest with a rag-doll, so an age-difference of at least thirty years then?).

The girl's name is of course Melody (and five of the seven songs subsequently include it in the title) and is vocalized by Serge's then-hubby Jane Birkin (twenty-five at the time) who also poses as Melody on the sleeve.
s As I'm far from fluent in French I don't grasp much of the lyrics, but even before I read the patchy translations and walk-throughs I got the feeling that at the end of it all he's going to try to hide a body somewhere (fact check: apparently she dies in a plane crash - in New Guinea for some reason).

The funky and almost lyric-less En Melody is, I guess, the track where they finally do the dirty deed (and what do you know! the title of course translates to In Melody), but it' also the best song of the album as well as the one wit the creepiest part - for a few seconds "Melody's" laughter sounds eerily like Fran Drescher's.

This album's greatest achievements are (in order) fusing funk and symphonies, making 28 minutes flow past in the blink of an eye (I cold have sworn I just put it on when it stopped, even the fourth time I listened) and influencing Air.