0175. Tortoise
Millions Now Living Will Never Die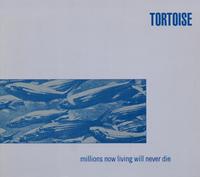 As you might have noticed I do dig the bands who dare to go outside of the 3:35-format and well, Tortoise dares a lot. An all-instrumental album, Millions Now Living Will Never Die has an opening track, Djed, spanning twenty minutes. Okay, those twenty minutes are somewhat divided into three or four stanzas of everchanging music, but still!

At first slow and brooding, then turning the tempo up a notch it spins around a couple of times until it finally collapses into what sounds like a broken disc. The following tracks are, if not equal in length, equal in their aim to not conform to their own boundaries.

It's a pretty piece of of dreaming music created by a band of multi-instrumentalists who, I'm sure, could easily have made more mainstream music and made more money, but I'm happy to report are still going strong.