0017. Red Hot Chili Peppers
Californication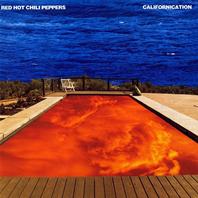 This was the hardest review I've written this far. It took me a couple of days of listening just to be able to write this header.

The once premier "funk-metal" band in the world has come a long way from their punk/funk-debut - sixteen years down the line there's less punk and more mainstream rock. It's an okay album, but it breezes by and doesn't leave much more of an impression than just that its okay. After a pause in the listening all I remember of it is the final song, Road Trippin 8and the word "California" repeating in my head), and that isn't really what should happen with a must-hear album.

Thusly I press play again.

And it kind of falls into place: the tracks on the album sounds like covers of almost everything they've done earlier, but put in a blender to take the edges off. Also: starting with some heavy, aggressive chords going over into a minmalistic guitar riff and then over to a slow chorus Around The World seems like a metaphor of the bands carreer: from the proverbial "in your face" to the coolest of cool to just another record in the shelf.

This is where they were on the tipping point and tried to decide if they were going to continue experimenting like on One Hot Minute or make everything about their home state. As their subsequent releases show, they chose the latter. Sadly, this is the album where the RHCP stopped being interesting. Rick Rubin returned as producer and wrecked it.