0095. Creedence Clearwater Revival
Cosmo's Factory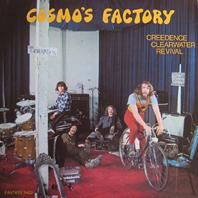 Creedence Clearwater Revival - again - and there's no surprises here as they mainly deliver the same patented cajun stomps from the swamps they had on the Green River album. This one however doesn't contain as many of the classical hits as the earlier entry, but sounds kinda the same (which means if you liked Green River you'll like this one too).

The song that stick out the most is Traveling Man which sounds more like Fats Domino than CCR. Then there's Ooby Dooby which is more of a silly thing that sounds more like an attempt to recreate the dance-crazes of yesteryear than a serious attempt on making music.
And the cover of I Heard It Through The Grapevine doesn't really work, at least not the parts where Fogherty's singing. But when they get into jam-mode and just start grooving out for six-seven minutes it's one of the high-points of the album.