0082. Coldplay
A Rush Of Blood To The Head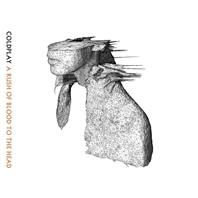 Labeled as "alternative" (again with that silly label, driving it far beyond the point of meaninglessness, but probably there because of Ian McCullouch from Echo And The Bunnymen being the producer) but with a massive mainstream success Coldplay's one of those bands I've never understood the hype about. I took a peek at the tracklist and didn't recognize a single title. Then I put the album on play and immedeately recognize each and every track - even the ones I've never heard.

The one I know I've heard earlier is God Put A Smile On Your Face and The Scientist and I guess it's not possible to straight up diss this, but at the same time I can't say it's good either. Oh ...and apparently Clocks was a hit too. It's got it's driving piano paired with Chris Martins' voice - a very non-threatenening and bland voice. He sings like he really wants to push something out, but it sounds fake, cause the words he delivers aren't so hard to get out of your mouth (nor is the combination). Maybe for Mr Martin though, as he takes about two times the normal time to get a syllable out. As for the music? Well, they're competent musicians and it's very orchestrated and arranged, but no edge at all.

The cover art for this one pretty much sums up my view of Coldplay: a soulless body without a brain attached.