0763. Offspring
Smash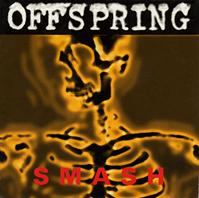 Oh, shit - this brings me back (or more accurately: drags me screaming). Another third album that became the band's biggest seller (just like yesterday's album), but with a big difference: I, at the time, was a sucker for punkish pop and actually bought concert tickets (an infatuation that lasted until half a year later or so).

Thing is, today I can still hear what made this a great album back then, but I can also hear what renders this a not so great album.

Cause while Come Out And Play and Self Esteem are the tracks that lured me in and I still enjoy them, in hindsight What Happened To You? and a lot of the others are pretty standard (What Happened... is the most basic ska-punk there is - extremely standard "hey guys, we gotta do a ska song, it's what's hot now! anyone knowh´s how to do it? no? Okay, we can do it just like this track I heard on the radio").

But still, nostalgia reigns.