0789. Julian Cope
Peggy Suicide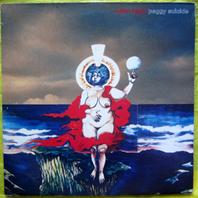 At first I was like: Meh…
Then I was like: Yeah!
On the repeat listen, the process also repeated, buth with the yeah-part coming earlier (still don't like Pristeen, though).
Things I like: the length of Safesurfer gives Cope the time to explore more than just the three minute core of the song, and instead pull in large swaths of great instrumentalism and other neat tricks.

Hung Up & Hanging Out To Dry (on side four of the double album and not to be confused with Hanging Out & Hung Up On The Line from side one) is perhaps the album's zenith, but that doesn't mean it's all downhill from there (nor that the action doesn't start until the last five songs).

There's sound collages taking turns with rock tracks and the calypso-esque single Beautiful Love (a song that's a bit from being an album-high). Cool thing: Michael Franti (of Disposable Heroes Of Hiphoprisy fame) remixed (the musically not so great) anti-cop track Soldier Blue, but it never got released as a single as the label thought it was "too overtly political".

Maybe not as great as Cole's first lasting band, The Teardrop Explodes, this still is a good and interesting album.