0527. Sheryl Crow
Tuesday Night Music Club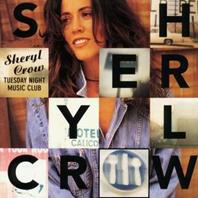 I bet Sheryl's rocking out, like every single day.
I bet she wakes up in the morning, thinking "Today is gonna be a good day for ...wait for it ...rocking out!"
I bet she even at times contemplates how it would be living like a normal person, you know - not rocking out.

Problem is: the only one who thinks she rocks is her (well, and the six million fools who bought Tuesday Night Music Club, but that's not the point here!). Just check out Leaving Las Vegas (or rather: don't) where Crow takes the broadest of stances and really believes she's Bruce.

The low-point of the album is The Na-Na Song, where she seems convinced that averybody can rap, and thusly tries to rock out rappin'.
With miserable results.

She makes up for these fails a bit with Strong Enough, but it's way too little, way too late, even though it's only the third track of the album. So, nah, you can live your life blissfully ignorant of this album.