0311. Metallica
...And Justice For All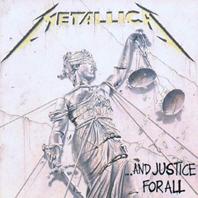 This is no April Fool's (yes, this is published on April 1st, but I'm not playing tricks when it come to music), cause the only thing they could have done better is giving the bass more room in the mix, but as it was their first album without Cliff I guess they played it safe or tried to make a homage or something. But the bass aside it's tight as if they'd programmed instead of played it.

They also released their very first video, for the last single off of the album (One), and for some silly reason allowed the seven minute song it to be edited down to the standard three minute format for some viewings.

The lyrics are as written by a haunted man, and deal with the horrors of war (on a global scale in Blackened where there's the end of mankind in a nuclear holocaust and on an individual scale on One, where we follow a single soldier, trapped in his own body, unable to sense the world around him), injustice (the title track), and plain insanity (Harvester Of Sorrow). And there's not a dead second on the album.

As this is one of the best albums Metallica's ever released I'd recommend it to anyone who's got even the slightest interest in rock.