0396. Curtis Mayfield
(There's No Place) Like America Today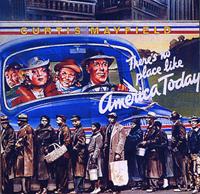 Ah, Curtis! Your sweet falsetto is as unmistakable as it is inimitable. The funk you bring is as soulful as it is exquisite and while I haven't hears to so many of your full albums, I've always listened to your songs.

But now, as I listen to There's No Place Like America Today, there's more context than just the individual songs - there's a bigger picture and you make it quite clear where you stand.

From your narrative in Billy Jack to the possibility of forgiveness in Jesus it all can be summed up in the title of the last track: Love To The People. Through tha hard times it's always the love for people first and foremost and for that I say thank you.

Thank you, Mr. Mayfield.
For your music, for your dedication, for your love.