0380. Thin Lizzy
Live And Dangerous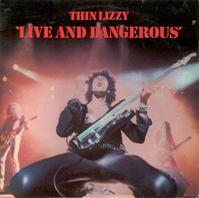 Not only is this a live album and not only is this a double-album, but it's a live, double, Thin Lizzy album! Okay, so the live-aspect is somewhat debated (regarding the extent of the studio-recorded overdubs), but still, it's a pseudo-live, double Thin Lizzy album!

But if I'm gonna go into critiquing mode I'll say it like this: three out of the four sides of the album starts with a classic track followed by a triplet of maybe-not-so-classic, but still great, tracks - whether it's Jailbreak or Still In Love With You, the lads deliver the goods.

Thin Lizzy celebrated their ninth year together (though guitarist Brian Robertson left the band after this album - he'd been on and off ever since he got into a bar-fight, busting his hand and thus canceling a U.s. tour) after humble beginnings where their first albums kind of flopped (even though they got a massive hit with Whiskey In The Jar, the album it was on didn't sell so well) they broke through to the mainstream with the album Jailbreak (which I expect to see here any day now) that spawned the hit singles The Boys Are Back In Town and Jailbreak (both of course represented on this album).
There's the twin-guitars, the steady rhythm-section and, of course, Phil Lynott's singing - no matter what else might change, Phil's voice is still there and superb.
Thin Lizzy is hard rock that's the standard by which most other rock can be measured.
Yes I'm a fan.