0139. Slayer
Reign In Blood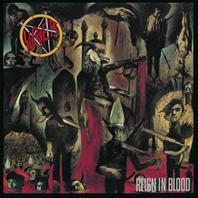 Here's almost half an hour of what's been deemed to be the "heaviest album of all time" and, maybe not surprising, it was produced by Rick Rubin.
And it's also a nasty piece of work.


It's hard core thrash-metal which laid some of the foundations for death metal as well as placing Slayer firmly in the Trimming down each track to the bare minimum of repetition (they thought it was "boring" playing the same riff over again) they got the album down to under thirty minutes playtime.
Among the musical highlights are the intro of Jesus Saves, Angel Of Death and the almost-a-title-track Raining Blood.

The lyrics, then... On this album they wanted to take a step away from the satanic previous album and to write more on a socia level (y'know, to be down with the kids'n all). So starting at the first track, Angel Of Death (which earned them accusations of nazi-sympathies since it was about Mengele's experimentation), and continuing through Altar Of Sacrifice, Criminally Insane and so on they wrote an album focused on evil, dismemberment, torture, satanic rituals and genocide. You know - social stuff. These guys really could use a vacation in a nice place.