0191. X-Ray Spex
Germ Free Adolescents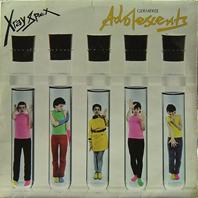 A precursor to the Riot Grrrl-scene the X-Ray Spex were one of the earlier punk-acts in Britain (and yes, I know they weren't an all-woman band, but I'm talking message and attitude here, kiddies). There's no cutesy-singing here, but instead anti-capitalist and against the buy'n'throw consumerism.

It's twelve saxophone-backed punk rock songs of almost equal greatness, but Identity and the title track as well as The Day the World Turned Day-Glo are a notch above the rest.
[Fun fact: Germ Free Adolescents didn't get its American release till '92 - fourteen years after its U.K. date]
Sadly I don't think the X-Ray Spex will be making a return to this list as this is their only album from that time. Singer Poly Styrene left to join Hare Krishna and the rest disbanded shortly after. They re-formed in the nineties, but since that release (Conscious Consumer) wasn't a success it probably won't show up here.

But anyway: I could easily listen to this album for days on end.