0224. The Smashing Pumpkins
Siamese Dream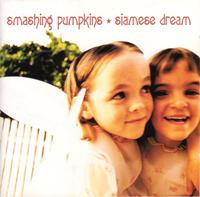 Before rumours of tyrannical bandleadership and long before he came out as yet another a conspiracy theorist Billy Corgan was actually a pretty decent musician.

As the leader of The Smashing Pumpkins he, and the rest of the band, got hailed as the "new Nirvana" after their respective debuts which put some pressure on them to deliver. And well, Nirvana they ain't, but the comparison's not fair due to two main factors:
1. the Pumpkins (or "Smaskers" as an old classmate of mine used to call them) does not play grunge.
2. the Pumpkins weren't as outwardly self-destructive (even though the were going through some pretty dark times at the recording of Siamese Dream).

This is a good album with solid melodies (yeah, I've always wanted to use that cheesy phrase) even though I don't like Today mostly just cause of the ice-cream-van-style melody.
Disarm, however, is a whole other slice of cake. With it's chilling narrative and massive instrumentation it's the obvious single and also the height of the album (and their career?).
One problem though is that Disarm makes the rest of the album feel like filler even though most of it is far above average.