0710. Eno
Another Green World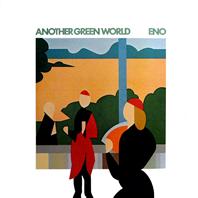 One thing I can say for sure about Brian Eno is that he's not afraid of trying new things. From ambient to glam to world music and of course with roots in eclectic overdrive, he approaches it with great enthusiasm, even if results may vary.

And this is one of the varied albums.
The introductory Sky Saw would have been fantastic if if was an instrumental, cause when the vocals come in about halfway through it's just bad. Simple as that. When they disappear in favour of the non-lyric singing it's a weight off the track's shoulders.

And sadly it continues along those lines (with a good, okay or great instrumental ruined by bad vocals) with two exceptions: St. Elmo's Fire and Golden Hours, both of which manage to pull it together quite nicely.